A conference was held today at the Mining and Metallurgical Institute of Tajikistan. The first to speak was the Vice-Rector, Professor Nasriddinov Zamoniddin, who noted that with the support and care of the Honorable Leader of the Nation Emomali Rahmon, science and education are developing, namely for the formation of technical thinking in 2020-2040. Mathematics in Science and Education ", and in this regard, we, officials of higher education institutions, need to take important steps. Today's conference is also a step towards achieving this goal, and we hope that at this conference, teachers and guests will seriously consider the issues.
At the same time, the Dean of the Mining Faculty, Associate Professor Guli Samadova spoke on the topic "Ways to increase the rate of coal mining" and talked about modern methods of coal mining and its efficiency, noting that there are many mines and mines in Tajikistan that can be more effectively mined with modern means .
Then the head of the department of geology and oil and gas affairs Olimov Abdumalik spoke on the topic "Protect groundwater during oil production" and noted that a prudent method of extracting oil products in a modern way cannot harm groundwater.
Then the assistant of the Department of Construction and Research Boimatov Dovar spoke on the topic "Innovative ways of designing state geodetic networks".
After the introductory part of the conference, the work of the conference was continued.
Let us remind that the conference was initiated by the Mining Faculty.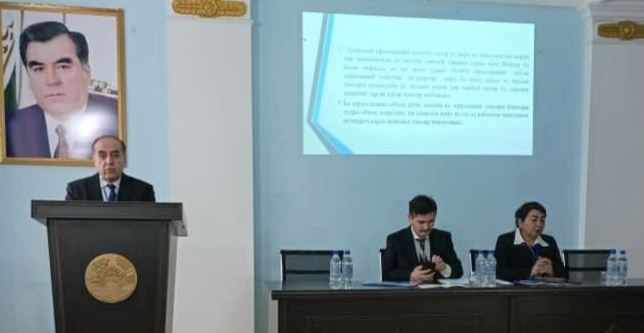 Information Department