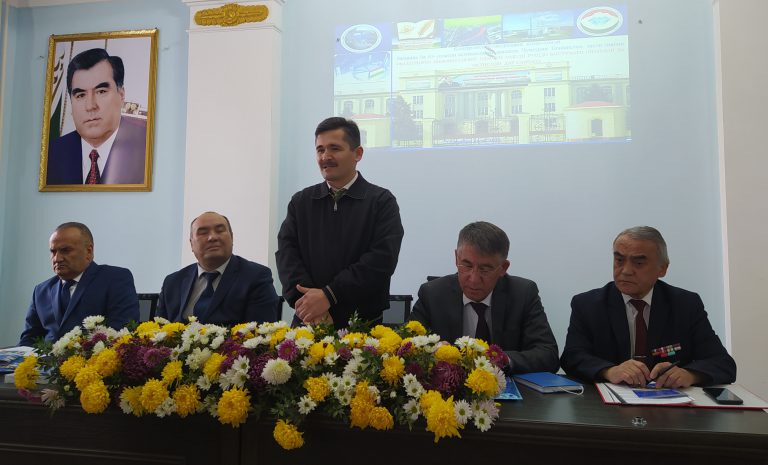 Today, the Mining and Metallurgical Institute of Tajikistan hosted a scientific-practical conference dedicated to the 30th anniversary of state independence of the Republic of Tajikistan entitled "Innovative activity as a factor of rapid social and economic development in industry" with the participation of scientists and researchers. The conference was first opened by the First Vice-Rector, Professor Nasriddinov Zamoniddin, who welcomed the guests and then spoke about the importance of the development of national industry. Nasriddinov Z Z аt the same time, recalling the support and care of the Founder of Peace and National Unity, Leader of the Nation, President Emomali Rahmon, he stressed that we scientists should make every effort to train qualified specialists in the field in the light of the educational policy of the Leader of the Nation. Contribute to the development of our beloved country. Today's conference will help to find economic solutions and solve the existing problems of the industry, and I hope that the distinguished guests will understand the importance and necessity of the topic and make suggestions. Professor Nasriddinov Zamoniddin also stressed that innovative activities contribute to the development of the industry, which in the current situation is the use of any modern opportunities for the benefit of work.
 Then, in the opening part, Professor Rizokulov Turakul from the University of Law, Business and Politics of Tajikistan, Gozibekov A , Professor Azimov A. and other young scholars read the report.
With this the opening part was completed and the work of the conference continued in the sections.
The head of the Department of Economics and Management Oblokulov Vohidjon informed the information department that scientists from universities of the country also participated in the sections online and expressed their views. He also added that in the coming days another international seminar on the use of modern technologies in industrial development will be held by the Department of Economics and Management, which will be attended by universities from Europe and China.
We will recall that today's conference was initiated by the departments of economics and management, humanities and social sciences and management.

Information Department