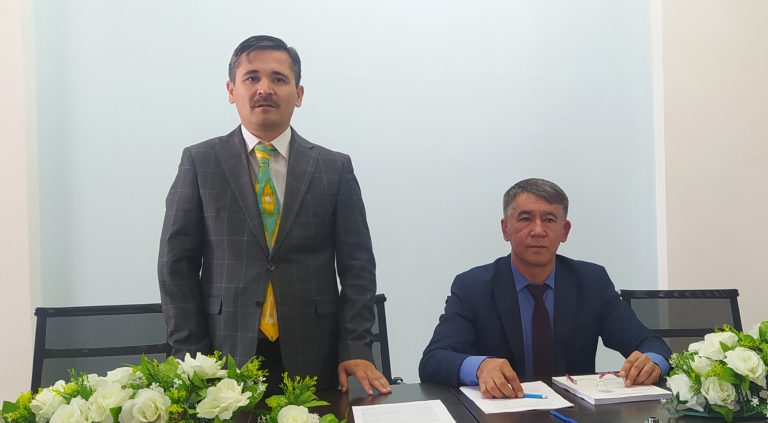 Today the institute, a scientific-theoretical conference was held in connection with the speech of the founder of peace and national unity – leader of the nation, the President of the Republic of Tajikistan, Emomali Rahmon, on the occasion of the Day of Knowledge and Peace Lesson. First Vice Rector Professor Nasriddinov Zamoniddin opened the event and considered the aspects of learning and applying the words of wisdom of the great leader of the nation Emomali Rahmon as important in the process of education and training, and expressed that a complete program should be developed to achieve good goals and improve to create opportunities for education. Because this speech is aimed at the improvement of living conditions and better education. In this regard, it is timely and important to benefit from these words of wisdom.
Then, the vice-rector for science, innovation and international relations, Professor Umarjonov Abdusafo, spoke on this issue, considering it important to train skilled specialists, develop the process of project writing and invention, improve the educational process, and speed up scientific work which conditions have been created for the completion of these works at the institute.
The dean of the faculty of electromechanics, professor Qaziev Kamolidin, gave a speech, considering the training of high-level personnel in the field of industry as important, and recommended improving the quality of work in the process of training skilled specialists in the field. Also, he emphasized on faithfully serving the people and the Motherland.
In the end, the first vice rector, Professor Nasriddinov Zamoniddin, added that considering the sensitive world situation, we should not lose political wisdom and always protect national interests. We must be patriots, study science and serve faithfully. The speech of the great leader of the nation, Emomali Rahmon, is a guide and an instruction for us, according to which we carry out our activities.

Information department